Customer Engagement
Our engage framework ensures deliverability of quality product, and is flexible enough to accommodate your project's timeline.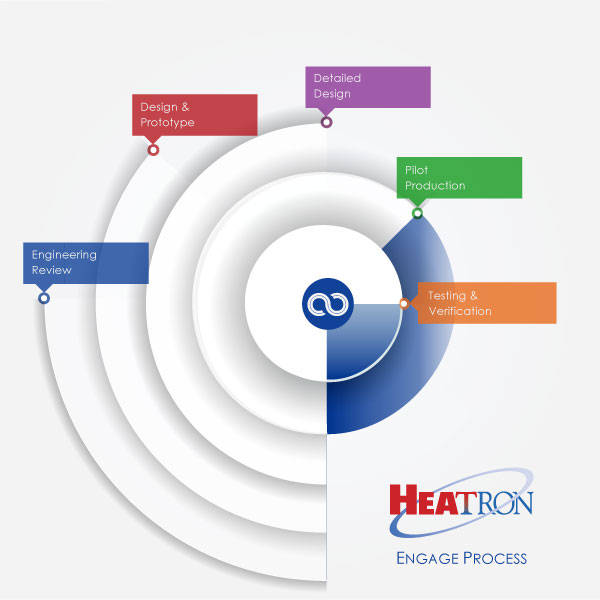 The Customer Defines the Process
As a customer-driven organization, Heatron's engage process provides a framework that allows engagement at any point. No matter where you are in the product development cycle, you are assured optimum design and process enhancements every step of the way.
Engineering review: Working with your implementation team, Heatron defines the product, project and process, and presents a project plan for approval.
Design and prototype: Incorporates the initial design, prototype, and production of a limited number of samples for preliminary testing.
Detailed design: Samples of the approved design are integrated into the product. Design-for-manufacture and costing questions are addressed.
Pilot production: Larger-scale sample production to address production issues, with further testing. Documentation services.
Testing and verification: Lab testing, product integration, testing against specifications and regulatory documentation.
Full life-cycle management
Rise above the challenge of legacy product revisions. Heatron supports the full product lifecycle, including value engineering and re-engineering of mature products.
Early Supplier Involvement
Heatron's engineers are thermal management experts with a wide range of experience and applied product development knowledge to bring to the table. By adding Heatron to your development team early in the process, you have maximum flexibility to choose the right solution for your product design.