Constant Flow Heated Hose Elements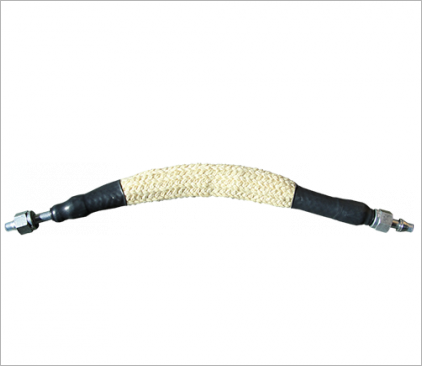 The Heatflex Constant Flow flexible heated hose technology provides a temperature regulated flexible conduit for delivery of a media with high viscosity or material that is a solid at ambient temperature.
Teflon liner for higher operating temperatures and high flow rates
Outer insulation jacket provides quick heat up and stable product temperature
Variety of diameters and lengths
Variety of wattage and watt density
Operating temperature up to 150°C

Overview
Options
Specifications
Applications
Overview
Constant Flow heated hose is the cost effective solution to maintain media flow and process control. Performance optimization is designed into each specific customer application. Applications include conditions that require the heated hose to be flexed during installation and perhaps routed thru a maze of obstructions, but then may rest motionless during operation of the equipment.
Constant Flow heated hose is also designed to allow continuous flexing once attached with fittings into the customer's equipment. The product is light weight, easy to install and service, and is designed to survive challenges of durability.
Options
The Heatflex Constant Flow heated hose is designed to allow repeated motion of the hose during product operation. The liner is a high temperature Teflon and becomes softer and more flexible as the media temperature increases with good chemical resistance. The inherent flexibility of the tubing along with a loose fitting outer insulation sleeve allows excellent product flexibility.
Hose is available in different diameters
Various sensors can be incorporated into the heater
Standard fittings can be added to hose ends.
Variety of insulation materials are available if required
Specifications:
Tube Size: 1/8″-1″
Tube Material: Teflon® or customer specified
Temperature Sensors: RTD, Thermistor, T/C, thermostat
Insulation: Various options are available if required
Operating temperature up to 150°C
Applications
Heatron's high performance standards and rapid prototyping make the Constant Flow product the right choice for many industrial and medical applications.
Printing
3-D Printers, Laser Printers, Card Printers, Thermal Printers, Commercial and Industrial Printers
Medical
Fluid warming
Adhesives
Adhesive dispensing