Deep Drawn Cartridge Heating Elements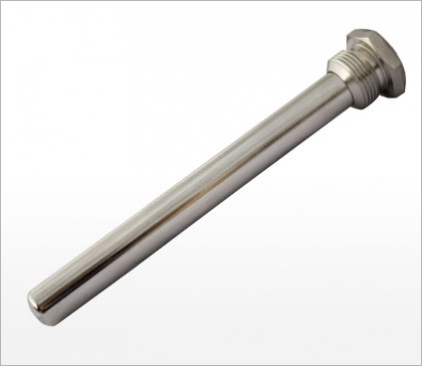 High altitude. High stress. High performance. The seamless metal jacket on this specialized cartridge heater is formed from a single sheet of metal, resulting in superior sheath integrity for high altitude and high stress applications. Deep drawn eliminates risk of weld failure when equipment reliability is of vital concern. Contact Heatron for a design consultation to select the right set of options for your application.
Overview
Options
Specifications
Applications
Overview:
UL E91597 (UL 499)
CSA LR66355-1 (CSA-C22.2)
TUV* EN60335-1/A11 and EN61010-1A2
* This approval gives Heatron the option of CE marking. Heatron offers an extensive UL option list and builds to UL 6061/IEC-60601 standard.
Heating Element Options
Sheath: 304 stainless steel, 316L stainless steel, Incoloy®
Lead Exit: straight, right angle, elbow, double ended, bent radius
Lead Wire: fiberglass, silicone, Teflon®, Teflon® high amperage, straight pins
Outer Jacket: stainless steel braid, stainless steel cable, strain relief spring, silicone, fiberglass, steatite ceramic beads
End Seal: mica, ceramic, silicone, Teflon®, epoxy
Fittings: silicone rubber overmold, post terminal, UL listed plug, bolt heater, conduit box
Mountings: threaded fittings, locating ring, flange
Lead: crimped on, swaged in, no-heat extension
Special Coatings: non-stick, electropolish, passivation
Insulation and heater materials available with UL, CSA or Mil Spec recognition.
Value-Added Controls
Controlled Heat Profile: custom distributed wattage heat profile
Internal thermocouple: type and location is design specified
More Options
Low leakage current
Dual voltage
Dual wattage
Ground wires
Three phase power
Special marks and labeling
Specifications
Nominal Diameter (in.)

0.5

0.75

Maximum Amps

9.7

23

Maximum Volts

480

480

Maximum Watts

Download brochure for details.

Maximum Length

7.5

7.5
Amperage data determined by current capability or internal parts and lead wire. Contact Heatron for specifications beyond range given.
Wattage is a function of voltage and added controls. Find wattage maximums and minimums in the downloadable brochure. Contact Heatron for specifications beyond those listed in brochure.
Download Heatron's custom cartridge heater brochure for additional design specifications. Pdf, 408 kB.
Deep Drawn Cartridge Heating Elements are optimized for performance and reliability in high stress environments.
Aviation: galley equipment, water heaters
Medical: fluid warming, vaporization, laboratory equipment
Industrial: immersion in water, chemicals or oil; plastic reclamation