Heat Exchanger Heating Elements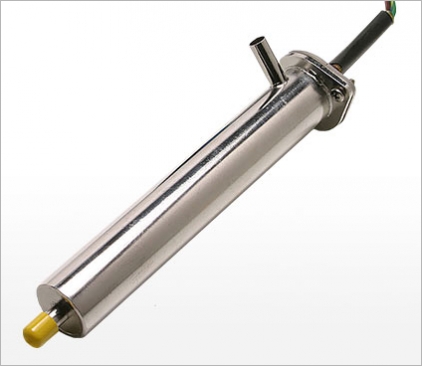 Quickly and safely transfers heated liquids, gases and oils. Heatron's heat exchanger consists of a high-density cartridge heater encased in a metal jacket with ports for transfer of medium to be heated. The compact design provides higher watt density and dielectric strength compared with tubular versions. Contact Heatron for a design consultation to select the right set of options for your application.
Overview
Options
Specifications
Applications
Overview:
UL E91597 (UL 499)
CSA LR66355-1 (CSA-C22.2)
TUV* EN60335-1/A11 and EN61010-1A2
* This approval gives Heatron the option of CE marking. Heatron offers an extensive UL option list and builds to UL 6061/IEC-60601 standard.
Design Options:
Sheath: 304 stainless steel, 316L stainless steel, Incoloy®
Lead Exit: straight, right angle, elbow
Lead Wire: fiberglass, silicone, Teflon® , straight pins
Outer Jacket: stainless steel braid, stainless steel cable, strain relief spring, silicone, fiberglass
End Seal: mica, ceramic, silicone, Teflon®, epoxy
Mountings: flange, UL listed plug
Lead: crimped on, swaged in, Special Coatings: electropolish, passivation
Insulation and heater materials available with UL, CSA or Mil Spec recognition.
Value Added Controls:
Over-temperature controls: internal thermostats, thermal fuses and temperature sensors
Internal thermocouple: type and location is design specified
Construction Options
Ports located and configured to customer fittings in any location and can be flared to ensure secure, clamped connections.
Thermal wells with fittings for mounting thermocouples, thermistors, RTDs or other temperature controlling devices.
Mounting pads for disc thermostats or other thermostats welded to the heat exchanger.
Ground wire can be internally connected in a heater or a ground lug welded to the heat exchanger.
Mounting brackets designed to customer specifications, including over-the-side design for non-pressurized systems.
Specifications
Nominal Diameter (in.)

0.25

0.375

0.5

0.625

0.75

Nominal Diameter (mm)

8.0

10.0

12.5

16.0

20.0

Maximum Amps

4.4

7.2

9.7

23

23

Maximum Volts

240

480

480

480

480

Watts**

Download brochure for details.

Maximum Length (in.)

36

48

60

72

72

Maximum Length (mm)

915

1,220

1,520

1,830

1,830
Amperage data determined by current capability or internal parts and lead wire. Contact Heatron for specifications beyond range given.
Wattage is a function of voltage and added controls. Find wattage maximums and minimums in the downloadable brochure. Contact Heatron for specifications beyond those listed in brochure.
Download Heatron's custom cartridge heater brochure for additional design specifications. Pdf, 288 kB.