Aluminum Nitride (AlN) Heater Plates
High thermal conductivity makes AlN an excellent choice where fast response or high levels of uniform temperatures are required. A clean, non-contaminating heat source, AlN's high thermal conductivity prevents cracking.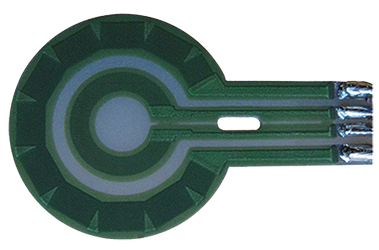 High-temperature heater up to 1000°C
Excellent thermal conductivity and uniformity.
Hard, dense, non-porous, high purity substrate.
Superior moisture and chemical resistance.
Excellent size and shape capability.
Precise, repeatable pattern and distributed wattage.
Overview
Options
Specifications
Applications
Precision engineered to fit tight spaces and tolerances, Thick Film AlN heaters are found in the most critical medical, aerospace and commercial applications. Fast ramp-up time, low leakage and excellent dielectric properties make this our highest-performing thick film alternative.
For high temperature applications up to 1000 °C
Power densities to 155 W/cm2 (1000 W/in2)
Superior thermal conductivity (220 W/mK)
Excellent dielectric properties
Low coefficient of thermal expansion
Low mass: fast temperature ramp up and cool down
Low leakage current
No out gassing with inorganic systems
Engineering services and consultation are available on every custom heating element order. Contact a specialist today for details.
Configuration Options
High temperature glass and conventional UV-cure resin-based solder masks or encapsulants.
Design single- or double-sided circuits, with one or two layers per side.
Larger, uneven shapes and three-dimensional configurations are possible with customization.
Wattage
Custom watt density designs available for added efficiency and control.
Multiple zone heating for greater control in target areas.
Distributed Wattage can be used to compensate for heat loss and create uniform temperature in application.
Voltage
Custom designed to operate from 2 to 480 volts; including dual voltage.
Functions with AC and DC voltage sources.
Surface Mount Sensors and Thermostats
Printed RTDs or surface-mount thermistors for direct, on-board temperature feedback and control, as well as more complex heater system assembly.
Large selection of thermostats and thermal fuses designed to provide maximum efficiency for your application.
Connecting Leads
Broad range of connection schemes available, including wire harness.
Custom connection solutions can be co-engineered with customer's design.
Power leads soldered directly to board or mechanically secured.
Maximum Temperature:
1000 °C
1832 °F
Maximum Watt Density:
155 W/cm²
1000 W/in²
Thermal Conductivity:
220 W/mK
Ramp-up Rate:
300°C/sec
572°F/sec
Density:
3.26 g/cm³
203.52 lb./ft³
Substrate Thickness:
1.27 mm x 5.08 mm
0.05"-0.20"
Typical Maximum Dimensions:
127 mm x 279 mm
5" x 11"
For custom solutions outside these specifications, contact a Heatron specialist.
Medical & Life Sciences
Dialysis, CPAP, DNA Analysis and Testing, Blood Diagnostics, Surgical Devices, Vessel Sealer, Blood/Fluid Warming, Instrument Warming, MRI Equipment, Temperature Therapy, Sterilization
Aviation & Transportation
Instrumentation, Personal Comfort, De-Icers, Over the Road Truck and Railcar Freeze Protection, Oil and Battery Heating, Auto and Motorcycles
Security
Chemical Detection, Explosives Detection, Alcohol Detection, Cameras
Food Service
Warming Cabinets, Display Shelves, Prep Stations, Heated Dishware, Fryer Systems, Grilling Platters, Appliances
Printing
3-D Printers, Laser Printers, Card Printers, Thermal Printers, Commercial and Industrial Printers
Industrial
Packaging Lines, Electronic Enclosures, Freeze Protection, Motor Heaters, Plastic Fabrications, Water Heating
Semiconductor
High Temperature Burn-In Boards and Testing Equipment, Wafer Chuck Heaters, Water Heating