Application Spotlight: 3D Printing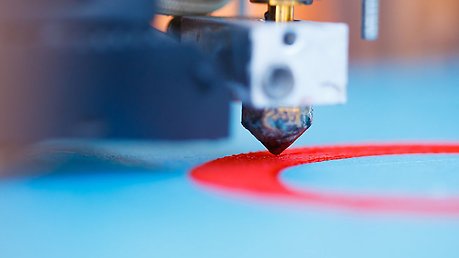 The use of additive manufacturing technology including 3D printers, laser sintering systems, and extruders has been transforming the manufacturing industry.
For the 3D printing process, monitoring temperatures throughout the printer is necessary to ensure proper function and prevent issues such as heat creep, misprints, cracking, and other print deformities that may slow down the 3D printing process.
Heat Creep is caused by an uneven heat distribution on the extruder's hot end. As a result, the filament is heated too early, and blockages occur in the nozzle. This prevents the filament from flowing out.
Cracking can occur after printing when the filament is cooled too quickly. The filament will cool rapidly if the print bed (1) does not maintain the proper temperature, or (2) if it cannot evenly distribute heat to all the print's layers. Cracking is especially common when printing taller designs.
Other print deformities, like warping, are typically caused by the filament cooling too quickly.
To avoid these issues, 3D printing technology requires precise, reliable, and highly configurable heating elements. Heatron offers heating solutions for extruder hot ends and print beds that can be customized to each application's unique specifications:
DuPont™ Kapton® / All-Polyimide: Highly configurable for low, controlled heat. Flexible enough to warp around components or adhere to glass or metal plates.
Thick Film: Fast ramp-up and cool-down with unparalleled configurability and high temperatures in smaller sizes.
Cartridge: Metal sheath heaters capable of high, concentrated heat and typically used for heating liquids and gasses by immersion.
Heatron is a valuable partner for additive manufacturing device makers and complex system designers. We have the insight and experience to recommend specifications at the design and prototype level that will maximize performance.